The 'academic' component of the EE Program covers multiple pillars of the GenWise Curriculum. These curricular elements will be covered over 2 weeks (4-5 hrs/ day), as follows:
Week 1: Mathematics, Science, Design and Technology (STEM Focus)

Week 2: Nature, Society &Individual; Tools for Thinking & Communication (Humanities Focus)
​
Please click on each week to know (MUCH) more...
​
While children are free to pick either week, we strongly recommend a balanced exposure to the content over both weeks.
GenWise Auroville Program - FAQs
Overall
What is the target age group for Auroville Programs?
---
Auroville is quite generous with her experiences and insights for children of all ages. Having said this, we recommend this program for children in the age range of 9-10 through late teens. Children younger than this may not be used to spending nights away from home. The younger children take away sensorial experiences, whereas the older ones are more able to intellectually connect what they have learnt in their classrooms/ textbooks, to the real world. Irrespective of age group, all participants will be exposed to alternative ways of community living, eating, cooking, using their hands and bodies, enhancing attention/ concentration, and service/ volunteering. Our endeavour, as GenWise, is to customize programs to meet the specific needs of various target segments. We have just delivered a program exclusively for students of Grades 11/12 from an International School in Mumbai (as part of the requirements for the Duke of Edinburgh program), as also a parent-child-school program for Primary school children at a premier International school in Mumbai. We are also in conversations with schools to deliver this program for all teaching staff. as also for their Leadership Team.
---
What is the recommended Program duration?
---
Even a 30-min meal at the Solar Kitchen, the community kitchen serving lunch at Auroville, can be eye-opening - the sheer diversity of people from around the world, coming in their cycles, motorbikes, or just walking, queueing up to receive their lunches, the thought and effort that has gone into making the meal balanced (food types, local/ indigenous/ global, cooked/ raw, etc.), choice of tables and floor mats for seating, the disposal of plates and cutlery - there's quite a few things to take in at Auroville! However, we believe that even introductory/ overview experiences at Auroville must be a minimum of 2 nights/ 3 days, and ideally 3-4 nights/ 4-5 days.
---
How is this Program different from other "Outbound" tours?
---
Our Program is unique in the following ways; and more importantly, children are led, and inspired by the quality of our mentors on these programs. Children are away from the ubiquitous distracting devices of today, living in the midst of nature, thinking less about themselves, and more about other people, and the natural world around them. Children will be exposed to:
Practices that help them

become more self-aware

, with implications for posture, attention and concentration
Physical/ Creative exertions, that will get them to

use their hands and body

- digging holes to plant saplings, making bunds for water retention, chopping firewood, fashioning a musical instrument from bamboo, are examples of such 'exertions'.
Making the Connections

between Classroom/ Book Knowledge and the Real/ Physical World - just a couple of days in a reforestation community will bring to life concepts such as water management, topsoil regeneration, zero waste, alternative energy, etc.

Given that we could visit Heritage Sites (such as Mahabalipuram - en route to Auroville, from Chennai), or sites of Geological interest (such as Tiruvakkarai National Fossil Wood Park - 30km from Auroville), we have formally attempted to

integrate subjects such as English Literature, Sciences, Individuals & Societies (IB), Math, and Service for an IB school from Mumbai, India.



Opportunities to

experience adventure

- whether it is crossing canyons on rope bridges, coming down flying foxes, handling snakes, camping in the forest, and more!
Principles of an

alternate community living model

that is Auroville, with its associated beliefs, values and norms (dignity of labour, volunteering, sharing, sustainability, stewardship, etc.)
We are pleasantly surprised to note that the way we have curated this experience for children is very closely aligned with the goals of CAS (IB) and the Duke of Edinburgh International Award for Young People, recommended by Cambridge International.
---
What is the Daily Routine for my child at Auroville?
---
Flow of experiences on a given day: Broad Template 0630 -> Getting up 0630 - 0700 -> Freshening up, healthy beverage 0700 - 0800 -> Day's briefing / Awareness through Body / Meditation / Note taking 0800 - 0900 -> Breakfast, Prep for the Day Ahead 0900 - 1040 -> Session1 (including a brief snack break) 1040 - 1210 -> Session 2 1210 - 1300 -> Lunch 1300 - 1445 -> Session3 (followed by break/snack) 1450 - 1620 -> Session4 1645 - 1845 -> Physical recreation & sports activities, freshening up 1845 - 2030 -> Dinner, followed by film / discussions / journalling / freetime/ walks 2030- 2100 -> Children talk to parents on phone 2115 -> Lights out.
---
How do I contact my child while the Program is underway?
---
All parents and school reps will be provided the contact details of our Program Leadership Team. You can call us anytime, to get in touch with your ward in case of any emergency. This information will be available to all Parents and School reps before Program Start.
---
How can my child contact me, while the Program is underway?
---
Students can carry their cell phones. These will be deposited with Program Coordinators. The phones will be given to children at designated times everyday, for 30min. to contact family/ friends. Those children who chose to not carry a mobile phone, can speak to their families by using the devices of the GenWise Team onsite. In case of an emergency, the GenWise Team onsite will call you at the earliest to brief you, and agree on next steps.
---
What is the typical Program Schedule?
---
Below is a sample schedule for a 4-day/ 5-night program at Auroville…
This is just a draft schedule; we will be delighted to work with you to customize programs that meet our shared goals.
---
---
Safety/ Security
How safe is the Auroville Program for my child?
---
Children's Safety & Security is a critical aspect, especially in a residential setting, away from the familiar environs of school/ home. Overall Auroville Safety
The Auroville Foundation (which is the city/ village of Auroville), is an autonomous body under the Ministry of Human Resource Development. The Secretary to the Foundation, an IAS officer appointed by the Government of India, resides and has an office within Auroville.
The Government has set up two police booths at different locations along the boundary of Auroville, including 3 patrol vehicles doing rounds, 24x7
All entry points (~4) into the Auroville Township (which The Tibetan Pavilion of Culture is part of) are manned by 2 Security Guards each from the Auroville Security Services, 24x7; credentials of every person/ vehicle passing through are validated here
All the important intersections (~8) within the Township are manned by 1 Security Guard each, round the clock
In addition, Auroville Security Services conducts motorbike patrols round the clock, within the Township; they are also available on call
GenWise Program Safety
GenWise Safety motto is "All children, within eyesight or earshot, at all times", and our processes are executed accordingly.
The GenWise team will stay and be with the children ALL the time, with possibly the highest adult:child ratio in the industry of approximately 1 adult for every 4 children
Trained Residential Counselors (male/ female).
---
How will medical emergencies be handled?
---
Before Program kick-off, we will seek information about any allergies, disabilities, ongoing medical care, schedule for taking medication (if currently underway), and any other information you think we must have, through a Medical Form. Services available to us include:
Ready access to First Aid kits; Trained First Aid Administrator within our Team
24X7 clinic, close to place of stay
Auroville Health Centre, within the campus
Ambulance Service 24X7, within Auroville
World-renowned JIPMER and The Pondicherry Institute of Medical Sciences are 5km (10min)/ 11km (25min) away, respectively
Some of these services will be intimated about our program, in advance, and will be on standby. In the rare case of any child requiring to be taken to a clinic/ hospital, s/he will be accompanied by a GenWise Staff member. The Student's medical background will also be available to the doctor, when required. We will try to ensure that the attending doctor speaks to the parent before starting any treatment. However, in case of an emergency, we will notify you as soon as possible, of any diagnosis or treatment provided.
---
How do we ensure safety of the participants?
---
All of our participants' safety is of paramount importance.
All our Programs are staffed with adults in ratios that match the gender break-up of the visiting children's group. We will have at least 1 adult Genwise female for every 6 girl students. There will be at least 1 adult Genwise male for every 8 boy students.
Girls and boys are accommodated separately.
We ask for specific information about each child in our Medical Form, including in the case of girl children, information around whether the child has started menstruating, and whether she has been educated about the same.
---
---
Food/ Accommodation
Where will my child stay?
---
All participants will be housed at dormitories maintained by Auroville. These are spartan, yet hygienic, and intended to allow children feel closer to nature. Boys and girls will be accommodated in separate areas. Some options we have used in the past include Forest communities, International Pavilions, and School dormitories, each of which offer special experiences and insights. Depending on where we stay, bathroom/ toilet facilities will be shared across 3-6 children. There will be a minimum of 3-4 children sleeping in a room, going up to a maximum of 15-20 children in facilities where large dormitory halls are available. Please note that some communities in Auroville are highly eco-sensitive, and toilet facilities are designed for recycling of human waste into "humanure". For more information, please do reach out to us.
---
What food options will be available for my child?
---
Food will be sourced from various communities within Auroville, which are mostly organic, and local produce. We will share meals with members of various communities we visit; we will also have an opportunity to expose children to various international cuisines. Whenever possible, lunches are scheduled at the Central Solar Kitchen. Apart from the three main meals - breakfast, lunch and dinner - children will also have snacks (incl fruits)/ juices twice a day, as also milk-based drinks and cookies, first thing in the morning. Some communities we visit, and stay in, may have community-specific food diets such as Vegan. All children and adults will adopt the community diet for the duration of our stay in those communities. Food in most communities will include Veg and Non-Veg options, and will be presented separately to children. Parents/ schools to let us know in advance of any special requirements (allergies, Jain/ Vegan requirements); to the extent possible, we will strive to meet the same.
---
---
Contact Details
How can we contact GenWise for more information?
---
You could reach us through the information available on the Contact Us page of our website. You could reach our Founders at vishnu@genwise.in (Vishnu Agnihotri; 93422 47734) and rajesh@genwise.in (Rajesh Panchanathan; 98409 70514).
---
---
Kit List
What should my child carry?
---
Please label all personal effects of the child like water bottle, toiletries, snack box etc. with the child's name so that these don't get mixed with others' items. Clothing
4 pairs of comfortable dresses for the outdoors, facilitating easy movement like track pants, denim pants or leggings. At least 2 pants that cover the leg fully as shorts will not be appropriate in some places (because of thorny bushes, mosquitoes).
1 Towel (preferably quick-dry, and easy to pack)
Any gear for regular sports activities in the evening
Water-Resistant Items
Tote/ Umbrella – preferably collapsible ones
Poncho – likely to rain a bit
Footwear
A pair of comfortable floaters (with straps) as footwear may need to be removed often, and, sneakers; leather sandals/ flip-flops to be avoided (as it can get wet and flip-flops may not be comfortable/ strong enough)
Other Items
A 1-litre water bottle, that can be refilled with good, UV-treated, RO potable water at multiple places on campus
Basic toiletry items – toothpaste, toothbrush, soap, shampoo, comb, clips, etc.
Mosquito repellent spray/ cream/ oil
A torch or a headlamp, with spare batteries
1 small plastic food-grade container for carrying snacks, 1 spoon
1 Notebook and a writing instrument (for journaling, sketching, etc.)
Medicines, if under treatment
Extra pair of spectacles, where applicable (better to avoid contact lenses)
Photocopy of Government ID (Aadhaar/ Passport)
Money/ Valuables/ Gadgets
Max of INR 1500, for memorabilia at the Auroville Visitors Centre (handmade paper, crafts, t-shirts, etc.); children are responsible for the same, unless they are handed over to the GenWise Team for safekeeping.
Please ensure the children do not carry anything expensive on them. GenWise does not take responsibility for such items.
We prefer that children do not bring any gadgets, including cellphones, ipads, cameras, bluetooth speakers etc. If they do bring cellphones, they must be deposited with the teachers and students must take responsibility for the same when they are given to students to talk to parents. Phone time will be limited to a 30-min window, per day. If any other gadgets are seen, they will be taken away from children and returned to them at the end of the trip.
Please check with us if you have any other specific needs.

Please note that the above is an indicative list; closer to the date of the program, we will inform you about any changes to the above.
---
Should I send any money with my child?
---
Your child does not need any money once you have handed over your child to us (until the end of the Program, when we hand them over, back to you)... However, en route to Auroville (or on the way back), if you feel more comfortable with your child having some spare cash, please feel free to enable that (max: Rs 1000). In addition, you may want to give them a max of INR 1500, for memorabilia at the Auroville Visitors Centre (handmade paper, crafts, t-shirts, etc.). Children are responsible for all cash (and any other valuable), unless they are handed over to the GenWise Team for safekeeping.
---
---
Travel
How will children travel to and from Auroville?
---
Options from Chennai - Road is best; travel time is approx 3 hours. GenWise can arrange this on a pass-through basis. AC/ non-AC options available. Options from Bengaluru - Road/ Rail/ Air options available. Flights are available in the early afternoon, both for onward and return trips (SpiceJet), on all days. Trains are available most days of the week. Children can be booked on 2nd or 3rd AC, and will get a comfortable night's rest. GenWise staff will travel with children on the train. Options from other cities - Direct flights available from Hyderbad; for other cities, the preferred option would be to fly in to Chennai, and travel by road from Chennai Airport to Auroville. Please contact us for more details.
---
How will children travel within Auroville?
---
GenWise takes responsibility for all travel within Auroville. This will mostly be on buses provided by the Auroville Transportation Services. Their service is renowned for its promptness, and safety. There will be times when we could be walking along with the children over short distances, as also night walks. We could agree with you, prior to program start, and depending upon number of children, whether bicycling could be an option for your children. Please reach out to us for more details...
---
---
About GenWise
What does GenWise do? Who are the people behind GenWise?
---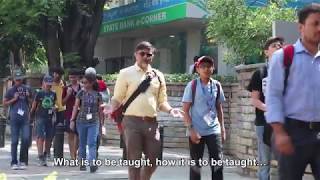 Please watch this short video for an introduction to GenWise. For more details, visit our website.
---
---
Program Fee
What does a typical Program cost?
---
A typical 4-night/ 4-day program could be in the region of INR 19,000-24,000 per child. This fee excludes air/ train travel to/ from Auroville, and includes all applicable taxes, all meals, accommodation at Auroville, cost of various experiences, and internal transportation. The range becomes necessary as the cost varies through the year, Nov through Feb being peak months.

This also includes the costs of 2 teachers supporting their children (say, a group of 20).

The cost assumes an Adult:Child ratio of 1:2, without which we will be unable to have the impact we seek. Please do reach out to us to understand our pricing principles better.
---
---